Welcome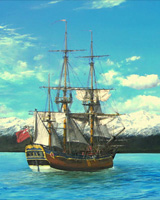 "Since childhood, I've always been fascinated by the diversity and sheer beauty of the world.
The great voyages of exploration—from Captain Cook's Endeavour voyage to the South Pacific, and later, mankind's push into space, from the Moon and beyond—fired my imagination and inspired a passion to explore this wonder at first hand, through my art.
That's really how I began this 'endeavour' of my own, from early sketches done at sea on the backs of marine charts to what I'm doing now : a depiction of the detail of a bird's tail feather to a vast open landscape."